When I first came under the employ of the Hawaiian language immersion schools I worked at a location in Wai'anae and then transferred to a new school on the grounds of Koaloha church. Although the program itself was unique in that the curriculum was developed to be taught in the Hawaiian language it was really like any other school except that its lofty goals were particular toward its educational attributes and hope for the perpetuation of our culture.
I met many people while working there including the members of the church and its general staff as well as the Kahu or pastor. I also formed a long-lasting friendship with a homeless man who was very helpful around the church, his name was Manny. Even years after I'd left the school I would often see Manny around the Capitol district if not on the church grounds. I always made time for him and got lunch for the two of us so we could sit somewhere and catch up on current events. Conversations with Manny were great even though he spoke with a slow drawl but he did have a tick, that tick was that he had to have a newspaper in his hand at all times. He never told me why that was and I never asked but there were always newspapers stuffed in his jacket, pant pockets and shoes. Manny said that there was an advantage to being homeless because everyone treats you like you're not there and it's because of that that people sometimes say things that they would otherwise never say publicly.
"Sometimes they see me sitting there only after they talk about fooling around with another member of the congregation., but they figure I'm homeless so who am I going to tell right?" Manny shrugged his shoulders and then wrapped a single page or newspaper around the aluminum foil which held his hot dog before he took a bite. "The only person I can tell is you."
In the twenty-three years that I knew Manny, he shared many delectable tidbits of information that could bring down the church and many well-known politicians in one fell swoop. Of course, if I ever chose to make that information public people would begin to question my sources and what would I say? That my informant was a homeless man who lurked in the oblique corners of the most respected church in our state and garnered his information through eavesdropping? Not that Manny was the first person to ever do it.
............
Earlier this month I ran into a retiree one evening who was moonlighting as a security guard at Koaloha Church, his friends called him Clutch after his childhood cartoon hero Clutch Cargo. He shared with me that as a child he grew up on the grounds of the church and that it was a playground for himself and his siblings. I told him about my time as a teacher at both the old adobe building on the church grounds as well as in the Montessori school. For every detail of our individual experiences at Koaloha, it was only natural that we would broach the subject of Manny. Immediately I told the security guard that I'd known Manny for a long time and I fed him and gave him a bit of money every time I saw him.
"Oh, I guess you didn't hear ?" The security guards demeanor changed from jovial to somber.
"Heard what?" I asked.
"Manny died, they found him at the bus stop across the street. He was sitting on the bench and he just fell over and that was it, he was gone." The security guard looked away for a second as he wiped his tears. I was stunned, I had just sat and talked with him after one of my tours three nights ago. At that precise moment, I saw a shape of some kind move behind the security guard, it passed from his left to his right. I had to do a double take in order to be certain of what I'd seen but as clear as day there it was still moving towards Lunalilo's tomb. The sun had not finished setting and so it was still light out but this translucent shape was hobbling toward the Punchbowl entrance to the church. I ran after it and caught it just in time to see it float toward the bus stop across the street before it disappeared. Could it have been Manny?
............
At the conclusion of my downtown walking tour, people will linger afterward to ask questions or to share their own personal experiences regarding the otherworldly. It means a lot to me that a complete stranger will trust me enough to share a story that they wouldn't tell anyone else, after all, no one wants to be thought of as having been shortchanged of a rational thinking mind. One evening I thanked everyone and bid them a good evening and walked back to my car which was parked in front of the old state ID building. It occurred to me at that moment that I should call my friend Irene at the medical examiner's office to ask her a question, "Did you come across an older Asian gentleman in his late 60's early 70's? Lots of newspapers in his pockets? His name is Manny, he was a friend of mine for a long time, I'm just wondering what happened him?"
"Oh yes," she replied calmly. "Manfred Sakamoto seventy-three years old..........I'm not supposed to say anything but he died as the result of a brain aneurysm; at least he didn't suffer. It was quick so that's a good thing when you think about it."
"Listen, Irene, if his family for some reason hasn't come forward to claim him I'd like to pay for his expenses. You know, give him a proper burial or something?" I knew that the answer would probably have to be 'no' but I wanted Manny to know that I at least tried. Irene's next statement was a surprise.
"We couldn't find his family but someone did come to claim his ashes but they wanted to remain anonymous. That's all I can tell you, I'm really sorry." There was no need for Irene to apologize but that's the kind of person she is, always kind and accommodating.
My mind was at ease now, at least someone thought well enough of Manny that they wanted to take care of him and afford his remains a bit of dignity. That's always a good thing. The following Thursday evening was another conclusion of the downtown walking tour and a brief commiseration took place with the people who came on that tour before we all said our good-byes. I looked briefly up and down Punchbowl street before I crossed and something caught my eye, it was Clutch the Koaloha church security guard closing the main gate to the church. His shirt pocket and pant pockets were stuffed with newspapers as were his shoes. He held newspapers in his hands as he shut the main gate and applied the lock. Then he moved toward the entrance to the cemetery and closed the Punchbowl gate and the Queen street gate.
Clutch looked at me briefly and waved, he made his way across the street without looking if there was oncoming traffic or not. "These church guys they hired this lady from the mainland to work accounting and she didn't know who I was so she had security kick me out! You believe that?! What's worse is the Kahu and everybody else know me for a long time and they didn't do anything to stop her! Nothing!"
"I didn't know that you were a security guard at the church for that long Clutch? Didn't you tell me that you just recently retired not too long ago?" I asked.
Clutch looked at me like I just called him an idiot and shook his head, "I think all the ghost in your stories finally made you mento."
"Wait, I'm confused....what?" I could feel a level of irritation beginning to rise from within the depths of my patience.
The old man leaned in closer until his face was a few inches away from mine, "This guy Clutch was nice enough to go get my ashes cause he wanted to put me somewhere in the cemetery but after he spread my remains behind the small bookstore I figgah now is my chance. So, I stay visiting Clutch for a little while and then I might move on to somebody else, maybe that accountant lady from the mainland! It's me, Manny!"
Without that he suddenly broke away and went back to the other side of the street to close the cemetery gate, "Eh, anytime you see plenty newspapers around the church you know that's me!"
The funny thing about that is whenever I do see a bunch of newspapers around Koaloha church, its always stuffed in someone's pockets and shoes or wrapped around their hands.
In the Hawaiian language, the word "noho" means "possession of a medium by a spirit or god." It also means to possess or to be possessed. The English meaning is to have as belonging to one or to own. Come and hear master storyteller Lopaka Kapanui share hair-raising true accounts of people who have been possessed and find out how common, everyday objects end up becoming possessed themselves.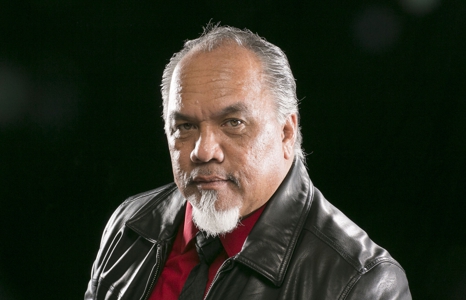 Performance:
Lopaka Kapanui: Possession
Showtimes:
Friday Jun 01 07:30 PM
Location:
Doris Duke Theatre
Price:
Museum members: $12.00
General Admission: $15.00